If you have been searching for a new meal idea, try this tropical mango chicken thighs recipe. It is nutritious and filling, but light on the tummy at the same time. In addition, roasted grapes and pineapple chunks are added to the dish for additional fruity flavor and extra nourishment that contains vitamin C, fiber, antioxidants and enzymes that help keep the immune system healthy and strong and the digestive system running happily and healthily.



Ingredients

Six to Eight Boneless Chicken Thighs
Cup of Red Seedless Grapes
Cup of Pineapple Chunks
Two Cups of Your Favorite Mango Sauce ( I love to use the Taste of Inspirations Caribbean Mango Grilling Sauce because it has a sweet and spicy kick to it!)
Salt & Pepper for Additional Light Seasoning

Directions

1. Pre-heat the oven to 400 degrees and place a nice even layer of aluminium foil over a baking sheet to help keep the pan from getting dirty and the chicken thighs from sticky.

2. Pour the sauce over the chicken thighs and coat them well using a brush or spoon if you have too.

3. Sprinkle the red seedless grapes and pineapple chunks over the chicken thighs with a good sprinkle of salt and pepper.

4. Roast the chicken in the oven at 400 degrees for 30 minutes.

5. Serve the chicken thighs up with your favorite side dishes such as rice and vegetables for a nice healthy meal.







Powered by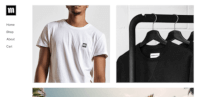 Create your own unique website with customizable templates.